Messages, News and Stars from John & the Team: Friday 18th November
Happy Friday and Children In Need day.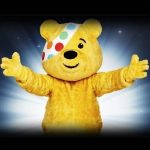 Hi everyone
Happy Friday and Children In Need day everyone. It's a lovely day here, with CIN and also a Beating the Odds day timetable collapse as well, which I'll talk about in more detail next week – I'm sure Louise B will be sending me something interesting to read!
Elsewhere there's some great sporting trips, some fabulous STARS, very progressive stuff in PSHE, and some advance warning of possible Christmas dates, and some other bits and pieces too – plus a video at the end! I've just as I've been typing this noticed as well that Ofsted have put our last inspection, in September, on their website, so you can look at that here https://files.ofsted.gov.uk/v1/file/50199045 if you want to!
Enjoy that and enjoy reading what we are doing. Hope to see you soon at any events you may be at. All the best and take care – enjoy the weekend when it comes
John & the Team
Parent Partnership Award!
https://www.awardplace.co.uk/award/lppa
This is a great and exciting project
The team are going to kickstart it all off by sending out a questionnaire in a week or so, so please do look out for that. We're really wanting to use it to improve our work with you all
As you know by now, the project focuses on key areas
Supporting parents as their children transition through or between schools
Include all groups of parents in supporting their children's learning and developing their own learning
Take steps to ensure that the school is a welcoming, communicative and friendly place for parents
Provide clear and accessible guidance to help parents support their children's learning and development
Provide clear guidance on the responsibilities of parents, school and pupils, and share this information with parents as a key part of the induction process
Produce parent-friendly policies to establish effective home–school links
Reading
We're all pressing ahead here with Non-Fiction November, which is a great way to get students interested in Reading – we're enjoying it!
Attendance
Thanks for the questions about attendance – it's good to be working on this difficult area together. Next week we are meting with the person responsible for this from North Tyneside Council, as we have to do now, and working out how to best proceed with the new rules
Personal Development
Here's the latest interesting work from Jo and the PD Team
Anti-Bullying Week and PSHE
Post 16 have been creating their own anti-bullying campaign over the last few weeks with a particular focus on what to do as a bystander. Bystanders have the power to significantly reduce unwanted, ongoing, and aggressive actions directed toward another person or group of people. By intervening non-aggressively in the first few seconds, bystanders can reduce bullying by at least 78%
Ben, Charlotte and Jamie made their own comic strips to show what you can do as a bystander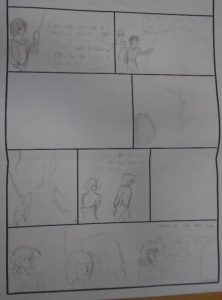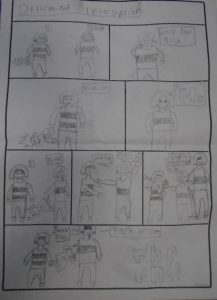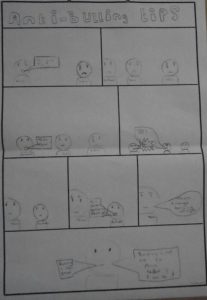 We have also been using micro-scripts to role play what to say to bullies, victims and how to ask for help from trusted adults. These micro-scripts will remain on display around school to prompt educational conversations and for students to use if they have witnessed bullying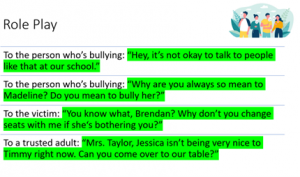 Now that students have had the chance to think about bullying through these scaffolded activities, next week they will have the opportunity to be part of a Student Forum next week, allowing for them discuss the topic and promote student voice
The Personal Development work is really exciting. I'm sure you'll be seeing more of it over the next year or so, as it really makes an impact on our work. Great stuff
E-safety is also part of Personal Development
Here's the link for Maria's e-safety blog from last week. It's still  really good as usual and it's been anti-bullying week this week, so it's still relevant
https://phs.percyhedley.org.uk/anti-bullying-week-14th-18th-november-2022/
North-East Homeless – but also a RESPECT STAR of the Week too!
We sometimes do things with this really good charity in North Shields. Imogen, complete STAR that she is, is collecting for them as part of her Duke of Edinburgh Award. They're great people and so is Imogen! She's great people too! Imogen sent this out to staff this week. Nice one. Imogen (you've seen Imogen loads of times on these pages, particularly when she does sporty things! Imogen put lots of items of clothing on when she asked staff too…..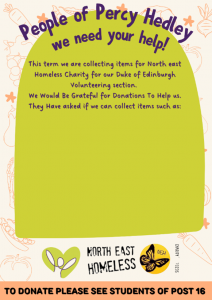 Lesson of the Week – PE and Sport – Hurray! Also Teamwork STARS!!!!!!!
Percy Hedley were invited along with other schools in the North East to open Epinay Business School's new Sports Hall
We joined Bamburgh school for some warmup activities then played in a tournament after a break
We won all our games with fantastic goal scoring efforts from Shaye and Jack – scoring 7 goals between them. Our defence was even better by not conceding a single goal thanks to Taylor, Camilla and Evan!
This is fab – have a look at a few pictures, they're great!
More Sport – this time Gymnastics!
There was a brilliant trip to Wanderers Gymnastics at the Northern Hope Centre Birtley
Students from KS2/3 went along to the Northern Hope Centre and took part in a gymnastics event with five other schools from around the region
Students took part in the fast track, trampoline, balance bars, balances, vault, trampette and foam pit
All the students were amazing and had a great time, as you can by the pictures and their comments
Edward – I think everyone should do Gymnastics club. I kind of liked the foam pit the best. It would be so much fun to do it again
Ayaan – I liked being a monkey on the bars and bouncing on the trampoline
Patrick – It was good! I enjoyed jumping into the foam pit
Callum – I really enjoyed going out with the school and felt good about all the exercises I did well
Sadie – I liked it and tried everything
Awesome. Sport, PE, Movement and things like that are so important here, and this sort of thing with the comments are really great to see
Trip of the Week – Kingfishers!
Hannah took the lovely Kingfishers out this week, and took some cute pictures as well
We enjoyed a trip to Killingworth library this week.  It was fun to spend the morning walking through the village and enjoying the beautiful autumn colours. At the library, the children enjoyed sharing picture books together.  As you can see everyone had a fantastic time – lots of happy faces!  Afterwards, we went to the café for our snack and enjoyed watching all the busy people doing their shopping. If you are looking for Christmas ideas for picture books, we can recommend
Whatever Next by Jill Murphy
One Day on Our Blue Planet by Ella Bailey
Alan's Big, Scary Teeth by Jarvis
I'm Thinking of a Pet by Adam and Charlotte Guillaine
Now that's a proper school trip!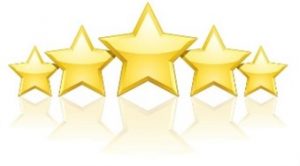 Tree-Planting of the Week with John Joseph and the Puffins!
Here is a lovely couple of pictures of John Joseph helping in Puffins to plant and water a beautiful apple tree that ex-student Liam's family kindly donated to the school.  It has taken pride of place in our favourite Outdoor Learning area.  We all look forward to picking apples from it over the coming years. Many thanks again to the Liam's family and we're thinking of him in his new setting!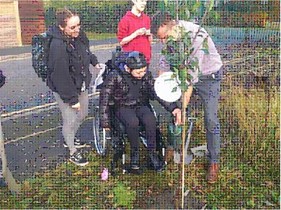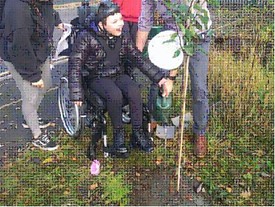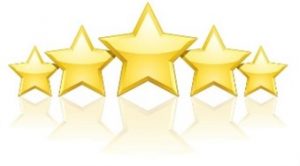 STARS!!! of the Week!!!
Based on our 3 School Values –
Resilience, Teamwork and Respect!!!
ELTBA – Respect with Kayden!
 This week in Eltba the team would like to give their Star of the Week to Kayden in Blackbirds.  This week Kayden visited the local shops with some of his team and helped to buy all the ingredients that were needed for some class activities.  He demonstrated great teamwork, planning the visit with staff and was extremely respectful whilst out to both staff and members of the public that he met.  Everyone is very proud of him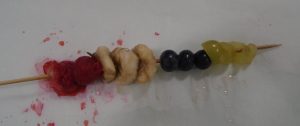 The finished product!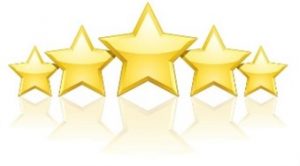 ENGAGEMENT – Gracey with Resilience!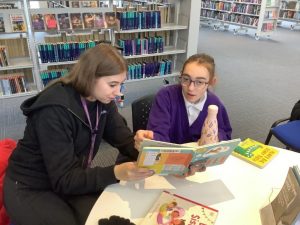 Gracey from Kingfishers!
Gracey has had a fantastic week! She has been using her VOCA really well for literacy and sequencing and has been extremely proud! Well done, Gracey!
APPROPRIATE ACCREDITATION
Nikhit with Resilience!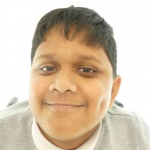 It's Nikhit!
Brilliant the way Nikhit is working with his new class and peers, and the lovely Ptarmigans. Well done, Nikhit! Good to see you in lunch the other day as well!
Finlay and Imogen – also Resilience!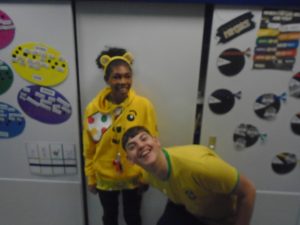 Finley and Imogen were very resilient this week for being so enthusiastic about their spellings homework this week and trying super hard!
They just look like they're having fun to me! Quite right too…..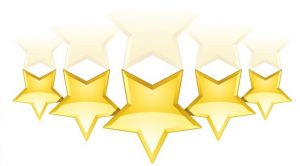 Makaton Signs of the Week 
Anti-bullying week! Julie with her hands on the pulse as usual! 
For Anti-Bullying Week: Bully Stop Tell Kind
   Bully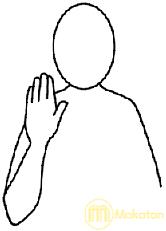 Stop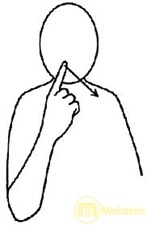 Tell (talk/speak)
  Kind
Keeeeeeeeeeeeeeeeep signing!!!!!!!!!!!!!!!!!!!!!!!!!!!!!!! 
Christmas! 
Now, I can't be doing with any Christmas pictures or anything like that yet, but making arrangements is a different matter……..We're very much hoping that we can actually do some Christmas things this year, free of Covid , so I thought it would be good to share a couple of the dates we already have, so people can start to think about diaries…looking forward to it all
2ndDecember – Disability History Day
8thDecember – Christmas Jumper Day with donations to Save the Children and Percy Hedley Foundation
  8th December – True Colours Theatre Group Disco's and activities in school                                    funded by the PTA
 13th& 14thDecember – MOVE activities
15thDecember – ELTBA Pathway Coffee and Christmas Crafts afternoon (Parents invited)
19thDecember – Talent shows
20thDecember – Christmas lunch
21stDecember – Christmas Fayre hosted by our Accreditation and P16 pupils (All parents invited)
22ndDecember PM – Engagement Pathway Christmas Assembly (Parents invited)
Throughout December our pupils undertaking the DofE award will be organising a reverse advent calendar
There will also be our annual Christingle with Reverend Moon, True Colours festive party and Carols at Killingworth library – dates to follow
Finally…
Have a look at this short time-lapse video of Jack and Daniel who were set the challenge of creating a small cuboid in Maths this week. Of course, they had to go one step further and decided to attempt a cuboid big enough to fit inside! They worked brilliantly together to build it and as you can see, it was a success!
Great stuff!
And one last finally….  
As part of our Spiritual, Moral, Social and Cultural curriculum we like to use sporting events such as the world cup to promote the student's cultural development and if past tournaments are anything to go by our resilience!
To celebrate the start of this learning opportunity we will be showing the England v Iran match on the big screen in the dining room at 1pm on Monday 21st November for those students who wish to watch it.    Students can wear red and/or white to show their support for England (however this optional and there is no requirement to do so)  Come on England!
All the very best to all of you, from all of us here
from John & the Team