This has been an extraordinary year for the Foundation which has brought new challenges and opportunities as we have responded to the unprecedented circumstances as a result of the pandemic. We continue to work with our staff, Public Health England, commissioners and unions to ensure service users and staff are safe. The pandemic continues to disrupt our lives, and last week, the Prime Minister announced another national lockdown as the number of positive cases of COVID-19 increased across the country. I wanted to share an update on what's happening across the Foundation since the announcement last week.
As a provider of frontline services to some of the most vulnerable people in our community, most services have remained open throughout the pandemic, providing homes and vital support for our service users. In the last couple of weeks, there has been an increase in the number of positive cases and our teams continue to do an amazing job making sure that they keep services running wherever it is safe to do so. This is not easy and there are times where staffing is reduced and we have to take quick decisions.  For example, this means we may need to send pupils, young people and service users home until staff return from isolation.  We take every possible action to avoid this and would only do so as a last resort. If your child/family member is affected, we will inform you as soon as we possibly can and support with any necessary arrangements.
Across the Foundation the guidance we follow differs depending on the setting (ie Education or Social care) so we monitor government guidance very closely. We also work closely with our Local Authority education and social care commissioners, Public Health colleagues and trade unions. We monitor the situation closely and where there are positive cases of COVID-19 in our college, student or service user population, we follow isolation guidance and complete required Local Authority tracing protocol to identify close contacts of the positive case. Sometimes this means we need to close all or part of a bubble and ask the people in it to isolate at home. We try to update all families with what is happening as quickly as we can, but please bear with us if it takes us a little longer than we would like to get information out to anyone who is not directly affected.
The request from the government is to stay at home wherever possible, and across our schools and college, some of our students are now learning from home. We continue to get positive thanks for our fantastic staff teams who have worked hard to set up remote learning for students. I would also like to say a huge well done to all our students and their parents who are helping them to do the home learning – you are all doing a fantastic job. Our teams will be checking in with you regularly to see if there is any other support you need during the lockdown.
The planning and implementation of the rapid or Lateral Flow Device (LFD) testing for staff, students and service users is well advanced across all sites for those who agree to complete the regularly tests. This will help us prevent the spread of COVID-19; and support us in managing the impact on staff through the ability to implement serial testing where sanctioned by government guidance.
Our promise is to put people at the heart of what we do, and as CEO, I am extremely proud of the commitment, resilience, and agility that staff across the organisation have shown this year through challenging circumstances.
As we now look forward to a new future with COVID-19 as part of our lives for the near future I would like to show my deepest gratitude to carers, parents and families and once again to the Percy Hedley team who I see making such a difference every day to people's lives, and who will give us the strength and resilience to continue to deliver in the coming year.
These are unprecedented times, and we have faced challenges we never thought we would over the last 12 months. I know how difficult this is for everyone, and I would like to say a huge thank you for all your continued support.
If you have any questions or concerns, please contact us and we will respond as quickly as we can.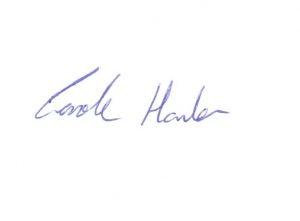 Carole Harder, Chief Executive