Family Liaison and PTA weekly blog 11 March 2022
The mornings and evenings are getting brighter. I'm now on the lookout for signs of spring, which is my favourite season.
It was lovely seeing some tired and happy faces of the returning Post 16 students and staff who were on a residential at Calvert Trust Keswick this week. It brought back happy memories for me, when my own now 23 year old went on these. He was always anxious leading up to it, but settled quickly and enjoyed every single one.
E-Safety:
I have been asked by Philip Coates who recorded an E-Safety online session for parents/carers if you would kindly complete the feedback form on the link. E-Safety is so important and we take it seriously at school, ensuring that we are up to date with the latest guidance. We need your feedback too.
The link to the session is here
The Feedback form is here
Do you remember the Morrison's "It's Good to Grow" campaign last year where we collected tokens for gardening equipment? It has arrived and will be well used for the ongoing development of our outside learning space. Thanks to everyone who supported, shared the link and helped us with this venture.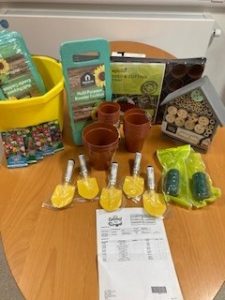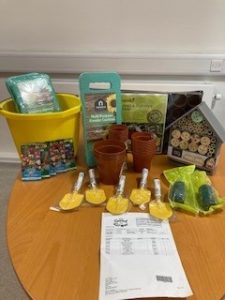 Information
Exam Stress: Tips and techniques for reducing stress and performing at your best! Free webinar
I've been asked to share this by one of our leadership Team, who says "the Mr Barton stuff is always excellent, may be useful for those parents with pupils doing GCSE's."
In this interactive session we'll cover how to make a revision plan, our top revision strategies, help with motivation, methods to reduce anxiety and techniques for once you're in the exam.
This session is aimed at students, but parents and teachers are welcome to join. The session will be recorded so you can join in live and then share with your child/students at a later time.
The free webinar takes place on Monday 14th March at 8pm.
Please feel free to pass the following link on to your students and parent network so they can sign up:
Reaching out to Families.
Please see attached link.
Reaching Out to Families updated flyer March 22
Newcastle Parent Carer Forum Online  2 workshops:
I have been asked by one of our parents, Marie Leddy to share the following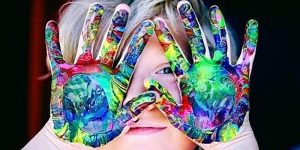 Encouraging Positive Behaviour for Children with SEND:
We have an online workshop coming up in partnership with Contact for Newcastle based families who would like support and advice with encouraging positive behaviour for children with SEND.
Monday 21st March 2022
10am- 12.30pm
You can sign up for your FREE place now via the link below:
Supporting better sleep for children with SEND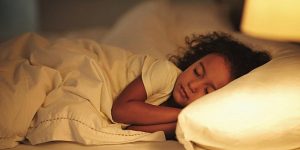 We have an online workshop coming up in partnership with Contact for Newcastle based families who would like support and advice with supporting better sleep for children with SEND.
Monday 28th March 2022
10am- 12.30pm
You can sign up for your FREE place now
Activities
Autism friendly Comic Night. 
158 Ocean Road, South Shields, NE33 2JF, United Kingdom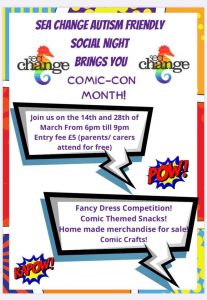 Dino Den; South Shields
I know that Dinosaurs are very popular with many of our students and thought this looked interesting. Just opened on the site of the old Queen Vic pub on Victoria Road
"Once a popular music venue, the building now looks set to reverberate to the fearsome sounds of T Rex the dinosaur rather than tribute renditions of Get it On from its iconic namesake band from the 1970s.
Decorated in dinosaur movie memorabilia and lifelike models of the giant creatures which last roamed the planet around 65 million years ago, the venue will trade, buy and sell a wide range of dinosaur related products including models, art pieces, games, posters, puppets and books."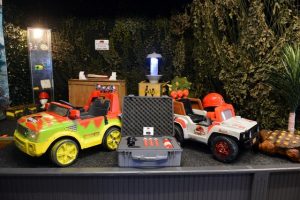 SEN Swimming lessons
Regent Farm Rd, Gosforth, Newcastle upon Tyne, NE3 3HD
We are happy to announce our SEND (special educational needs and disability) swimming lessons will start tomorrow – Tuesday 8th March.
Foundation SEND 4 years and over with an adult in the water 18.30-19.00.
Book now online or with the Better UK app.
Link to website is here: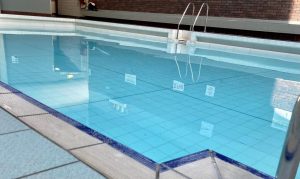 Whitley Bay Playhouse: True Imagination production
I know this is early, but it was shared by Carol Brown, parent of one of our students sent this to us. It is during the summer holidays and "True Colours" who have been in school with Post 16 and are booked to come in for 2 days for the whole school are doing it. The feedback from Post 16 staff and students was very positive.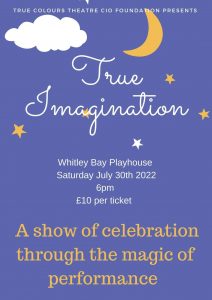 Accessibility information is here:
https://www.playhousewhitleybay.co.uk/venue-information/accessibility/
PTA
We held our AGM yesterday and although we had a few more parent/carers attend still feel we have a way to go. The Chair and I, prior to the meeting had decided to propose a mix of day/evening meetings as 2 of the committee work full time. This has changed for the new committee, with 3 working full time. This was well received and will be reflected in the meeting list for the year which will be circulated once finalised.
Save the date:
Summer Fayre 2022 will be held on Saturday 16th July.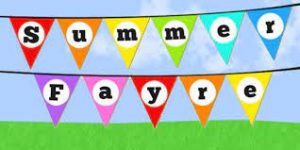 If any of our parents/staff are interested in booking a trade stall, please contact me, Eileen Robinson on e.robinson@percyhedley.org.uk or Jo Thomas on j.thomas@percyhedley.org.uk for further details.
Committee:
I'm sure you would like to know who the new committee is so here goes:
Chair: Donna Jones (parent)
Vice Chair: Chris Fewster Smith (parent)
Treasurer: Ros Holden (parent + parent governor)
Secretary: Kate Cordwell Smith (parent + parent governor)
Media + Events: Jo Thomas (staff)
Teacher/Student link: Claire Hayden (staff). School appointed
School link: Eileen Robinson (FLO, staff) School, role specific appointment
Co-opted positions:
Fund-raising link: Maria Hallett (staff)
Chair of Student Council: Harvey Heatley. (student)
We were delighted that our 2 parent governors volunteered to continue with (Ros Holden) or assume (Kate Cordwell Smith) committee roles which strengthens the PTA as a vessel for communication between parents/carers and school.
100 Club winners:
Harvey, Chair of Student Council drew the first 6 months draws for the 100 Club and the winners are as follows:
39 Chris Fewster
30 Lawrence Whitney
43 Chris Fewster
41 Donna Jones
39 Chris Fewster
26 Chris Fewster
Guesses on a postcard for the name of the parent who purchased 10 numbers!  It is never too late to join as we still have 6 draws left which will be done in July. I attach the subscription form and you can choose to purchase 6 numbers for £6, or 2 for £12. I don't need to remind you who won 4 of the first draws, do I? The income from the 100 club covers our basic running costs and memberships.
100 Club Annual Subscriber agreement 2021-22
Percy Hedley School PTA Facebook group
Have you joined this closed group for parents, carers and staff of Percy Hedley School? As well as sharing PTA related matters, we use this as another communication tool. I use it when I receive information I want to pass on quickly and for reminders. I actively encourage families to share photos, suggestions and reviews for others as I know the power of parent information. Without lovely photos it would look a bit boring. So, please use it and share your ideas and to give feedback on activities I share and on posts. Let's make it interactive.
The link to join is here:
Have a good week
Eileen Robinson; Family Liaison Officer
Email: e.robinson@percyhedley.org.uk
Phone: 0191 2161811 ext 3260