Family Information and PTA updates 25th March 2022
Spring is well and truly with us now, with the usual mix of frosty weather and brilliant sunshine. One of our parents, Tracey, mum to Toby has written a book. If you read her poem; "What do you see when you look at me" as I did you will want to read more.
PRE-ORDER IS READY!
If you would like a copy of my debut book "The Little Falcon", you can sign up for pre-order now. The link below will direct you to a website to leave your name and email address. When the book is ready I will be in touch to arrange payment and delivery!
A heart warming story about true friendship and a little Falcon that can't fly. Perfect for children aged 7 and under, although I'm sure a story that can be enjoyed by all
Inspired by my Son Toby who has cerebral palsy and his wonderful friend Jodi from Illinois
10% of profits will be donated to Percy Hedley school.
Here is the link to pre -order  https://www.fiandbooks.com/preorder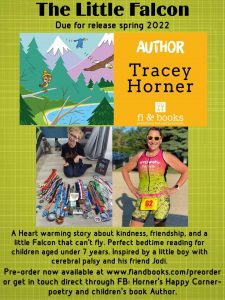 Workshops/training:
Family Fund, training for Carers
If you are a carer, you may be entitled to additional benefits, grants or other financial help. We've created a free e-learning course to help you learn more about what you could be entitled to. The link to the e-learning course is here: https://bit.ly/3nwDyAA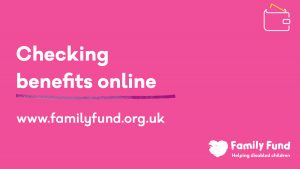 Pre SEND Review; webinar recording.
A webinar with the Minister for Children and Families, Will Quince MP is available to view on youtube. This was organised by Special Needs Jungle, the National Network of Parent Carer Forums (NNPCF), Contact-for families of disabled children and The Family Fund.
There is currently a SEND review in progress and I felt compelled to watch this interesting webinar. In the Q&A section, all of the issues which are relevant are raised and it remains to be seen if this will impact. There will be a period of consultation. Possibly the best way to ensure that you are in the picture and have the opportunity to be involved is to link with your local Parent Carer Forum. Special Needs Jungle is well worth following too. The link to the webinar is here
https://www.youtube.com/watch?v=M0R7MG8VI7s
Online Sleep workshop
There are still places available for Newcastle parent/carers only (as funded by the Parent Carer Forum). Details below; I shared 2 weeks ago
Supporting better sleep for children with SEND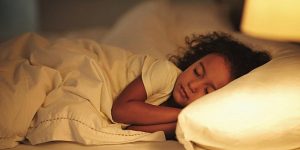 We have an online workshop coming up in partnership with Contact for Newcastle based families who would like support and advice with supporting better sleep for children with SEND.
Monday 28th March 2022
10am- 12.30pm
You can sign up for your FREE place now
Information.
Gateshead SEND Youth Forum.
One of our wonderful Post 16 students has asked me to share this with Gateshead families. The meeting will be online via Microsoft TEAMS.
If you want further details please contact Alex Thompson, a SEND Involvement worker who runs this forum. You can contact him by email at: alexthompson@gateshead.gov.uk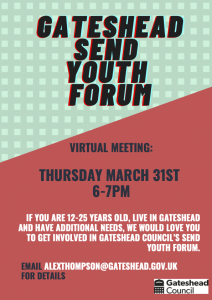 Direct Payment/Personal Budget: Contact-for families of disabled children.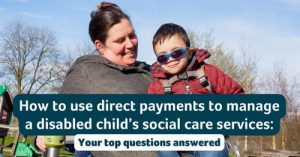 This is often raised with me by parents and staff. An EHCP is an Education led plan where sometimes the Social Care section is either left blank or needs are not considered as eligible for support.
Contact held a Question and Answer session online and the link below provides answers to the top questions are on the link below:
https://contact.org.uk/about-contact/news-and-views/direct-payments-for-disabled-childrens-social-care-your-top-questions-answered/?fbclid=IwAR0Gd0MIjxPchBVAVVYHM-aXxV-dltxbeszYRcr1QCQP8d_g_wrTXfXGDoU
Neurodiversity Celebration Week: 21-27th March

This week there have been online events relating to neurodiversity. I have just been made aware of it. There are some resources for parents/carers on the link below which may or may not be useful. Based in the south of England, there will be differences in help and support available. I do think some of the posters are good
https://www.neurodiversityweek.com/parent-resources
Activities:
Nature's Living Room CIC Free Easter Activities:
This is based near Hexham and I am unsure of how accessible it is for those with mobility challenges. The link to their facebook page is here if you'd like to contact them directly.
Full Circle Food are funding free activity days over the Easter Holiday. Details on the poster below. Please note one change: The activity planned for the 13th has been moved to the 14th. You must book by text on the number provided on the form.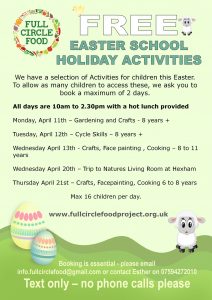 Beamish Steam Gala Event
On the first weekend of the Easter holidays, 9th and 10th April a special event will be taking place
Beamish Steam Gala, a special transport-themed weekend on 9th and 10th April.
Marvel at road steam engines, road rollers, internal combustion vehicles and railway locomotives as well as cycles and motorcycles.
All aboard! You can even take a steam train ride at The Waggonway with our Puffing Billy replica!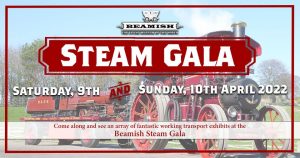 the link to their accessibility page is here
Fundraising request
I have been asked to promote the Foundation's street collections in Newcastle city centre which will take place in Newcastle from Thursday 5th to Sunday 8th May. If you sign up on the link below it would be much appreciated for any of the days.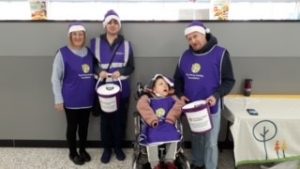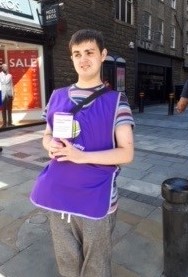 Sign Up for our next Street Collection HERE
PTA.
As promised we have organised an evening meeting. Although we have set the time at 19.30, this is for the first meeting and we will re-evaluate afterwards. The meeting will be on Tuesday 5th April from 19.30-20.30 and will be via Microsoft TEAMS. As you will be at home, hopefully with your feet up (yes, I know that's wishful thinking) you can have a drink of whatever takes your fancy and join in. An agenda will be sent beforehand. If you plan to join us and would like something added to the agenda, please let me know and I will forward to the Secretary.The link to join the meeting is below:
Plans for the summer fayre, to be held on Saturday 16th July are in progress and we will keep you up to date. We have a sub committee; Donna, Chris, Claire, Jo and me (Eileen). Thanks to those who have already offered help, staff and families. Please start saving up goodies for the chocolate, bottle and gift tombolas. Raffle prizes would also be most welcome.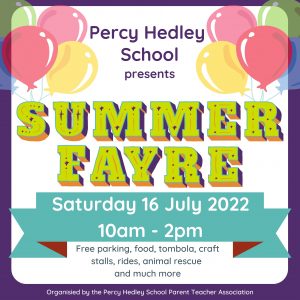 100 Club draws:
Cheques have been ordered for the 100 club winners. We would welcome new subscribers. If you have already joined, please ignore this message. If not, and you've been meaning to, you still can. We will allocate you 2 numbers for the remaining 6 draws. The form is on the link below or I can send paper copies if required.
100 Club Annual Subscriber agreement 2021-22
PTA Facebook Page
The link to join our page, which is for parents,carers and school staff is here.
Hoping this weekend remains warm and sunny
Eileen Robinson
Family Liaison Officer
Email: e.robinson@percyhedley.org.uk
Telephone: 0191 2161811 ext 3260