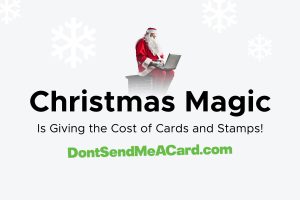 These are challenging times for us all and as we adapt to these unprecedented circumstances, we are so very grateful to you for your continued support.
Sadly, like so many charities, most of our planned fundraising events have been cancelled this year but we are so grateful to our wonderful supporters who continue to come up with creative and engaging ways to support us.
This year, we are asking our supporters to send ecards instead of greetings cards and donate the money saved in doing so.
We have partnered with Don't Send Me A Card.com so you can send festive ecards to your friends, family or colleagues whilst donating the equivalent cost of Christmas cards and/or postage to Percy Hedley and helping us continue to provide the best support for the disabled people in our schools, college and care homes.
Simply visit https://www.dontsendmeacard.com/charities/TPCN
2020 certainly hasn't turned out the way any of us expected.  What hasn't changed is our commitment to providing care, education and support for disabled children, young people and adults throughout the pandemic.
Thanks for your continued support, we wish you all a very Merry Christmas!