Messages and News from John and the Team: Friday 24th June 2022
Hi everyone,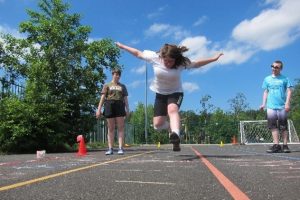 How is the season treating all of you at the moment? Good, I hope. The fine weather certainly makes a difference to us, and I hope it does to you positively as well. There's so much sport going on at the moment for example, and so much Outdoor Learning. The MOVE and allotment work is so much better too because of the summer
Elsewhere there's some interesting stuff on a new Duke of Edinburgh project we want to do, some upcoming events like Coffee & Catch-up afternoons, and some real stars all over the school. Please do enjoy, have a lovely weekend, and we'll see you here or in school for the last month of the term. Cheers

You Said, We Listened: Parent View
Make sure you don't miss Eileen's blog – there's always good stuff on there that's very helpful, and it has a slightly different focus to this one. Enjoy that one too!
And also, please do look at the work that Philip and others do on e-safety. I always learn loads when I read his work, or listen to him and the team, and I think that a lot of parents & carers want to know more about e-safety
There's also PHS stuff of the Foundation blog, so lots of places to find out about what's going on
It was great that Governors took part in some Governor Training on Saturday past in Newcastle. As a result of that, there'll be some new things we put in place and hopefully have better governance too!
Parent Consultations, and Coffee & Catch-up
Please do see if you can find time to book an appointment – either in person or on Teams – with a teacher, at a time that suits you, for the new Parent/Carer Consultations from the 27th June to the 8th July
We'll go through the work that's been done and how your child has been doing, and anything else that's relevant too, like Key Drivers, Annual Review targets, safeguarding, or whatever you want to talk about
We plan to do one of those every term, towards the end of each term
The Coffee & Catch-up sessions are more informal are what used to be the Coffee Mornings. Again, these will be three times a year, but in the first half of each term. We have some dates!

Post-16, 2-3pm, Tuesday 5th July
ELTBA, 2-3pm, Monday 11th July
Engagement, 1.45-2.45pm, Wednesday 13th July
Years 9, 10 and 11, Thursday 14th July
End of Year Reports
The teachers have written these and they're just being checked over, so they'll be out quite soon
The format is based on the Key Drivers of Communication, Wellbeing and Independence that you've been working with us on through the topics that we've been teaching in school, with a few other comments too. The ones I've seen so far seem to be a great improvement on last year, so hopefully you'll find that too
Reading
Thanks to those of you who came to the Reading session that Becky put on a few days ago. This was the first in a planned sequence, so that we can work on improving reading with you all as partners in that, as appropriate, because everyone's different!
We're prioritising reading particularly, putting on training, buying new books and things, and thinking about our teaching and 1-1 sessions. Be great to work with you as much as we can on this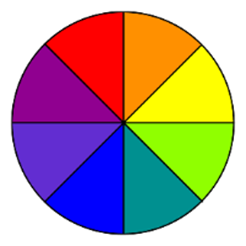 The Wheel
This Is Me Mini Festival
It's been National Diversity Week, which is incredibly important for us a community. There's also a lovely mini-festival planned by our PSHE team. This is what they wrote last week, so I thought I'd put it here again
The students are planning their very own "This Is Me" mini-festival to take place in school on Friday 8th July. Students will be creating information leaflets within lessons on areas of diversity such as: LBGTQ+, neurodiversity, race, feminism, etc, that will be distributed at the festival. The event will include activities for students to choose from throughout the day including a reading/drama corner, giant games and a catwalk. There will also be a "shopping village" of stalls of which enterprise groups are planning and creating food, beverages and merchandise for festival-goers to buy. The whole school event will come together at the end of the day for our "This Is Me" march and we would like the students to come dressed in whatever makes them feel fabulous (festival gear, fancy dress, PJs, couture). We're on the hunt for the following donations if you have any: unused face paint, photo booth props, fashion accessories, glitter and rainbow anything really!
The event will be raising money for a charity which will be chosen by our students. Tickets will cost £1 per student of which they will exchange for a wristband on the day and will be available from Jo or Leanne. They will also need some spending money for the shopping village
We have a small group of students from George Stephenson involved as an inclusion project; they will help plan and run the event. Hopefully we'll also have some entertainment from local artists, drag queens and students too
The day will celebrate individuality within our school culture, will provide an opportunity to practise functional organisational and money skills and also to bring the fun experience of a festival to our students. If you have any questions, queries or concerns, please contact Jo, Leanne or Lizzie on j.ferguson@percyhedley.org.uk and l.daley@percyhedley.org.uk, or your class teacher
Therapy Focus – MOVing All Over the World, from the fabulous MOVE team
Hopefully last week you caught the amazing MOVing all over the World stuff over on the PHF blog https://www.percyhedley.org.uk/saving-the-planet-with-move/
You'll all by now hopefully be familiar with our termly MOVE events. However, the team have stepped it up a notch and held our first National MOVE day – 'MOVE Saves the Planet'. This is an annual event for schools across the country to celebrate the achievements of everybody who is involved in the MOVE program. PHS students have been 'MOVing all Over the World' in a bid to raise awareness and explore activities that are good for the planet and to celebrate nature!
The students followed a Percy Hedley World Map around the outdoor areas of the school. There were 11 stations that were related to eco-friendly tasks that they had to complete
Conserve water – students had to transport water using tubes from one end of the courtyard to the other without losing any water
Plant more plants – to create more oxygen students planted seeds into their every own pot to keep
Sort the rubbish – pick up or use a grabber to sort rubbish into the right bins
Sea Tunnel – walk, propel, look, reach through the sensory sea tunnel
Jungle fun – crawl, walk, propel, reach and look through the jungle and find all the animals
Save the animals – scoop animals with nets out of the 'polluted sea'
Reuse rubbish – using rubbish to create games like boccia, tower building or throwing a hoop over milk bottles
Solar energy – clipping clothing on to a washing line to use the sun to dry the clothes instead of using a tumble dryer
Clean the beaches – pick out the rubbish from a sand pit and sort the rubbish into the right bins
Wind power – blow pin wheels to create energy or press a switch to turn a fan on to blow the pin wheel
Saving the ice caps – travel with a water balloon on a wooden spoon across 5 metres without it dropping and splatting everywhere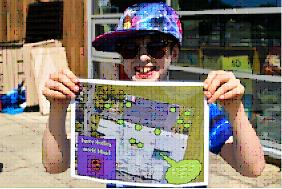 Students throughout school have been learning the importance of conserving water, recycling effectively and cleaning up our environments – and what fun they had! They also learnt how we can help protect wildlife and protect our oceans and rainforests. Take a look at the fantastic activities that they participated in, from litter picking, to hanging out washing, and planting seeds and then to moving through the sensory sea tunnel! (and everything in between!). Every activity has been creatively devised by our amazing MOVE team to promote opportunities for our students to develop not only their physical skills but also to broaden their understanding of why we all have a huge part to play in saving our planet! The MOVE network has promised £500 to spend on Jiraffe therapy equipment to the school who demonstrates the most movement opportunities…. Fingers crossed!
More Therapy Focus! – Parrots in Killingworth Library
Parrots have been going on community trips to Killingworth Library. This outing has allowed them to practise lots of skills to develop their communication and interaction, organisation and independence
They have spent time during their lessons planning their trip, learning about road safety, organising their belongings, and planning how to ask for what they want when they are in the library
Here is Toby practising his standing to choose his book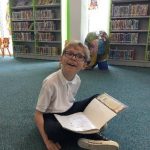 Abi, Wren and Teddy enjoyed reading and choosing their book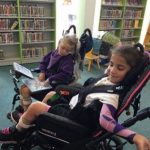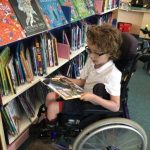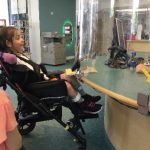 They practised their excellent communication skills to borrow their library books, speaking very confidently and clearly to the library staff. Some students used their VOCA. Well done ,guys, this is lovely!
National Week of Sport!
Percy Hedley sports days were back on the timetable this year. It's been a long two years, but they are back outside in the lovely sunshine. This year's Sports Days were themed around the Commonwealth Games. Each class represented a country they made flags headbands and posters. First to start was the MOVE on students Monday and Tuesday. The days consisted of a carousel of lots of fun activities including water, which as you can imagine did not necessarily stay where it should have! In the afternoon students took part in relay races, mind there was quite a bit of cheating going on from both students and staff, but fun was had by all as you can see in the pictures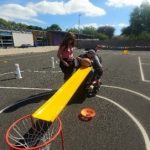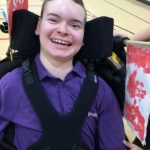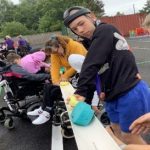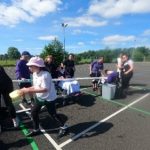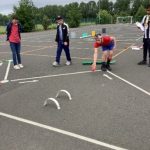 Thursday was the sports day for KS4 and P16 Sports day. Once again, the classes represented a country and lots of fantastic flags on display. The day was made up of a carousel of activities in the morning from football shoot, volleyball, cricket, athletics, basketball, badminton shuttle, move the water and crazy hockey.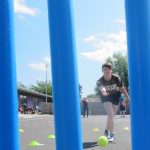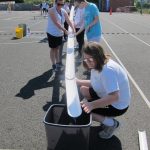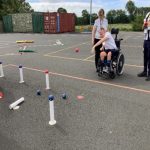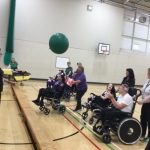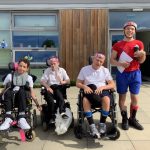 Allotment News in Jo's words! 
This week Sandpipers visited their allotment plot again. With all the lovely sunshine we're having watering is an endless job but we aren't complaining! This week we made choices from watering or planting. When those jobs were done, we managed to clear some of the pond weed and counted the best part of 20 frogs!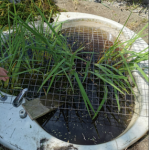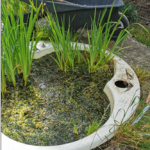 Our pond (recycled jacuzzi bath) had become neglected and overgrown during covid. We cleared 1/3 of pond weed making more space for our frog friends. After all, these slug munching beauties are a gardener's best friend and deserve a mansion.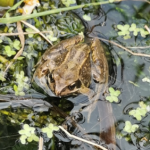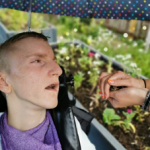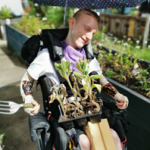 Max laden with plants ready for planting. He wasn't too keen on the frogs, but each to their own!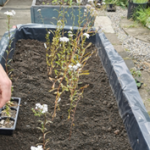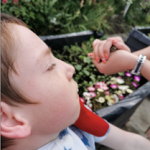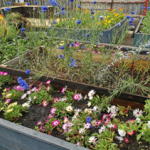 Last weeks planting looking gorgeous. A truly wild spot for bees and butterflies. Now George did enjoy meeting Mr Frog!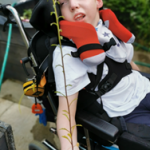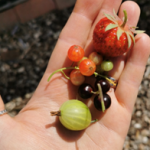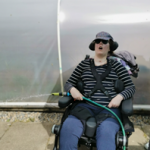 Lola watered endlessly to the delight of plants and frogs everywhere, then helped find a selection of fruits to smell and touch. 
Stay tuned for more allotment adventures with Jo!
Team of the Week –
Another lesson of the week – Magpies with the Outdoor Learning! Hooray!
The boys worked together in outdoor learning this week to construct a rope bridge.  They had to work together to get each other across the piranha infested waters! Tom swung across it!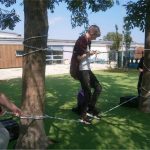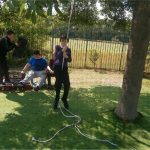 They've been preparing and planting seeds for the wildflower garden.  They are hoping to encourage butterflies and other insects into the area. And they made use of the brand new outdoor tap to help the seeds on their way!!!!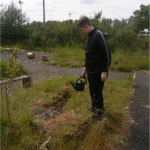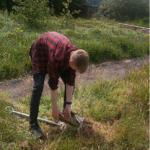 Excellent work, Magpies!
Another nice thing happened in the green playground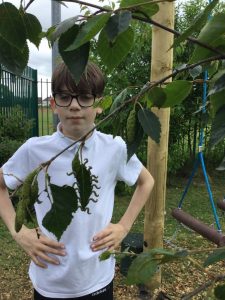 Jayden found "these caterpillars doing a pose" as he said, whilst playing in our green playground.
We think the caterpillars may be hungry.
"It looks like they are nibbling at the leaf as it's smaller than the other leaves"
Also in the Outdoor Learning arena, Rebecca writes
Next year we have a really exciting opportunity to be part of a pilot project with several other SEN schools who are developing an award called the OPT award (Our Personal Transition Award), which is an award developed for pupils who are following either the Engagement Model or those who are working with the life skills curriculum within our Post 16 department.  The award follows the same principles of the Duke of Edinburgh award, while having a focus on the appropriate development of tasks for the pupils involved, sensory experiences or developing life skills, without the constraints of time and written evidence.  Pupils will complete three areas over a two-year plan, gaining certificates and badges for their progress, culminating in the full accredited award
It's aimed at the individual participating in activities that they may never have encountered, providing them with enriching life experiences and enabling positive risk taking, personal challenge and a sense of community.  This is covered through the three areas of Volunteering, Physical and Emotional well-being, and a 48-hour challenge
We are hoping to run this award alongside the Duke of Edinburgh within the Post 16 Department, and in conjunction with our sister School Northern Counties, to provide opportunities for residential or adventure days, allowing for pupils to developed their preparation for adulthood skills
We will have more information on our participation in this in the Autumn term, and planning has started for how this will be developed through out curriculum opportunities, with us working to be a Pathway Lead school for the North-East.  The project is being led by Diverse Abilities, a charity in Dorset, and the website for the award should be going live very soon.  We will update you when we have more information and look forward to working with you on this project next year
 A Fabulous Thing with the Woodpeckers! In their own words!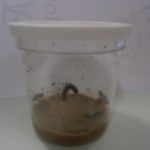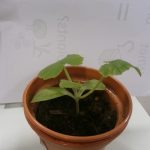 The Woodpeckers
Look at our amazing pumpkin plants! We have counted 3 new leaves and next week we are planning to repot the plants as they are growing very quickly. This week we have welcomed some caterpillars to the class and we are very excited to watch them grow too!
Makaton Signs of the Week
Some lovely colours this week, which go perfectly with Diversity Week. Try them!
Black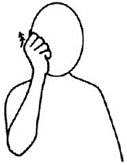 White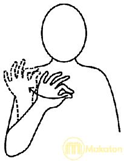 Orange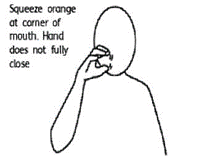 Brown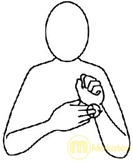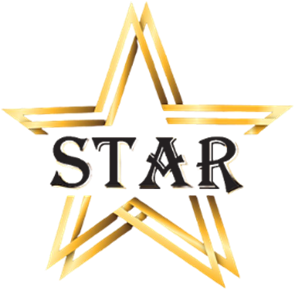 Engagement Stars of the Week
Star of the week for the Engagement pathway this week is Joseph Middlemass.
Each morning Joseph goes into his walker to take the lunch choices down to the kitchen, which is great, and he socialises with people he sees down the corridor smiling and waving! Marvellous! What a STAR!!!! you are, Joseph!!!!!!
ELTBA Star of the Week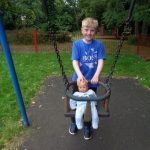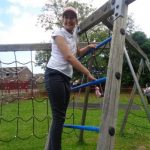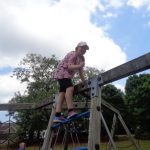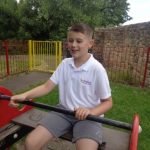 This week the team would like to give the ELTBA Star of the Week to the wonderful Wood Pigeons.  During their Outdoor Learning/Geography sessions they have been looking at ways that they can take care of the environment so on Thursday they visited a local park to see how people treat the area and find good and bad examples of looking after the environment.  They were all super sensible and extremely interested in what they were doing and their team were proud of how well they all behaved.  Lots of fun was had in the park when they had finished their important jobs. Congratulations, Wood Pigeons, what STARS!!! you all are!!!
More Stars of the Week!
Imogen is one of the great STARS of the week in post-16 – Imogen is a great runner and is running for North Tyneside now!!!!! Go Imogen!!!!!
 Finlay, Aidan and Owen have been collecting food for a North-East Homeless charity as part of their Duke of Edinburgh Award. They've set up a donations box and everything. This is really lovely and great work, guys – well done, total STARS!!!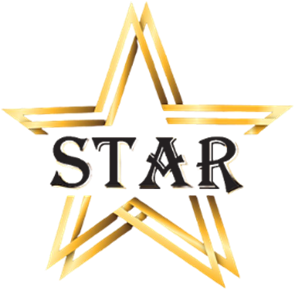 Finally…..Our first PROM!
PROM #1!
Less than a month away!
Finally finally…..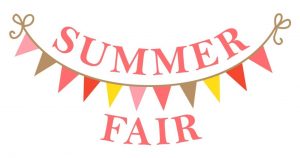 Summer Fair, 16th July!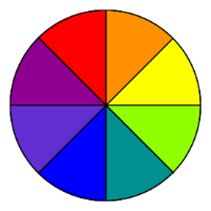 The Wheel
All the very best to all of you, from all of us here
John & the Team