Family Information and PTA updates 28 January 2022
I can hardly believe January has almost passed. I really want to get feedback and input from families about communication, specifically mine, including this weekly blog. I have asked a few times for your suggestions and appreciate how busy families are, and that this may be low on your list of priorities. However, unless you tell me I can't take things forward so I am using whatever means I can including chatting to those I make contact with for other reasons. Be prepared!
Information
Grants and Trusts
I've recently been asked for information on grants/trusts. here are a couple of websites you can use to search. The last few years have been tough on many charities. Be aware that some will ask for further detail on your finances, whereas others do not. If you want specific advice, get in touch and I will try to assist.
https://www.disability-grants.org/
https://grants-search.turn2us.org.uk/
In the next few weeks I will share ones I have previously included in blogs. These are probably the ones we know most about, and previous applicants from school have been successful.
Workshops. 
E-Safety
Safer Internet week is the 7th-11th February. We will offer an online session for parents/carers on Monday 7th February from 10:00-11:30. This will include information on Social Media and County Lines. Full details and the link to join will be shared once confirmed.
Please see the link below which has some useful resources for parents/carers.
https://saferinternet.org.uk/guide-and-resource/parents-and-carers
Contact-for families of disabled children.
There are 2 workshops, open to families whose children/young people attend the Great North Children's Hospital, either as in or outpatient. Please see the poster below and contact them directly.
Great North behaviour and sleep service workshops
Usborne Book Fair.
One of our lovely parents who had a stall at our summer/autumn fair is an Usborne divisional leader. I have been asked to let you know about their January sale.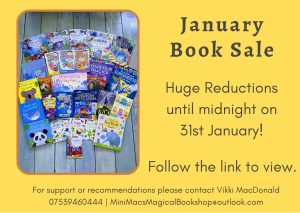 Please see the link below. Vikki would be delighted to hear from parents and provide any further advice/support.
https://usborne.com/gb/books/browse-by-category/special-offers?partnerCode=7d420291afbc654a8aa509736045e336&utm_campaign=Mini_Macs_Magical_Bookshop&utm_source=partner-store&utm_medium=link-share
Percy Hedley Fund-raising:
February Challenge – Walk The Wall
Our Walk the Wall virtual challenge is taking place this February and is a fantastic way to improve health and wellbeing. You can take part with friends, family, colleagues, or pop on your favourite podcast or music and get those steps in at the same time.
The challenge starts on 31st January and ends on 1st March (but there is no worry if it takes longer), and we are asking our supporters to join Team Percy Hedley to cover Hadrian's Wall virtually.  It's literally 'any time, any place, anywhere' and on a sunny day could even be along part of the Wall itself!  It's 84 miles of History in what is the Wall's 1900th anniversary.
We will provide all our challengers with a guide so that you know exactly where on the wall you are virtually and even if you have friends or family in other parts of the country, or world, they can still join in!!!
There is no entry fee and we would encourage everyone to get involved, get active and take part in this great challenge. Sign up to take part for free through the link below, and maybe you can raise some sponsorship money on the way!!!
Tag us on social media as you take on the channel and use the hashtag #WalkTheWall
You can sign up HERE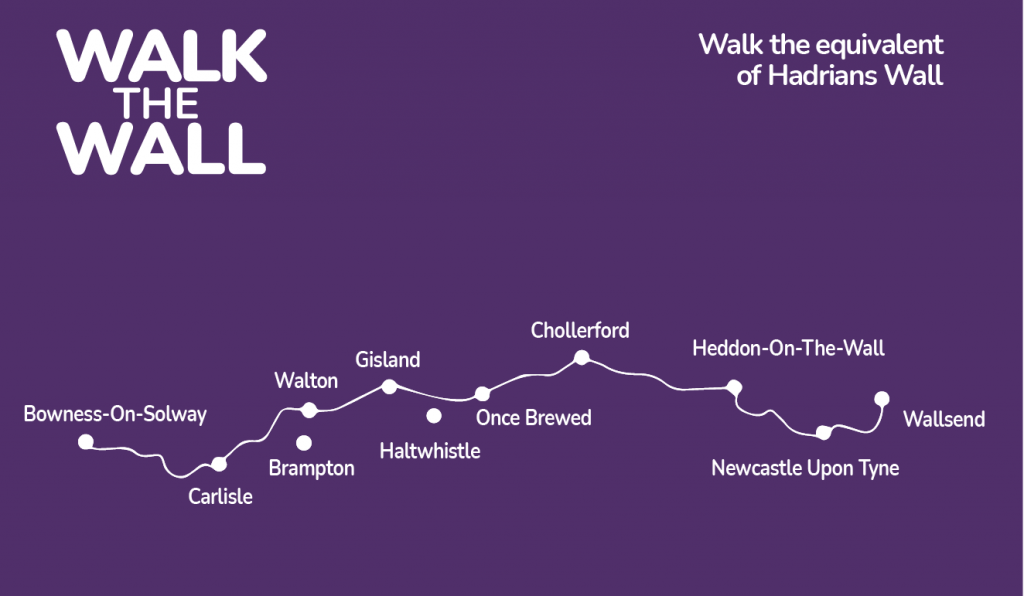 Activities:
Tim Lamb Centre
The pandemic and some excellent funding from The National Lottery and Morrison's Foundation has enabled our neighbours to use lockdown to enhance their space. There is lots going on and some really fabulous developments including accessible outside play area, sensory room, gaming room and a large indoor trampoline space. Along with a "changing place", accessible parking and new groups it is definitely worth visiting. Membership is £20 per annum, with a per child charge for visits. Please see the poster below:
Pathways 4 All – Tim Lamb Centre
Smile through Sport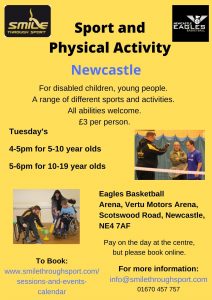 Bendrigg Trust: Lake District
You may have seen the post on the Facebook pages about one of our former students, Pip Rowlands. 2 of our current students in Post 16 have also attended Bendrigg for climbing related activities. So, I thought I would share this with families. There are some lovely photos on their website if you are interested.
Very exciting news! In June 2022, we are going to be hosting an action packed activity weekend for families with any kind of bone condition including Scoliosis, Spina bifida and Brittle Bone disease.
This short break is an extension of our award winning family courses, but with a focus on bringing together people with a bone disease.
Price : £180 per person
Price includes accommodation, food and a full programme of accessible activities!!
Please note Bendrigg have heavily subsidised the cost of this trip with funding to help make it affordable for all.
We have welcomed the lovely group from
Strongbones Children's Charitable Trust
to Bendrigg many times before and we'd love to welcome lots more families to come and enjoy this inclusive adventure break!
PTA
Meeting.
Donna Jones, our PTA Chair was exhilarated to see new parents attend our virtual meeting this week. We had a good discussion about all manner of things PTA related. Donna will plan and post dates of new meetings to enable parents to join. Your input makes all the difference and the PTA wants to be part of the communication between families and school.
The PTA welcomes every opportunity to support the fun side of school and suggestions from parents as well as the school team. We take suggestions from school staff; decisions are made by the committee.
100 Club.
48 numbers are now taken, with another 12 pending. We are looking at an easier way of promoting it but for now the link is below. If you would like a paper copy please email me.
100 Club Annual Subscriber agreement 2021-22
Percy Hedley School PTA Facebook group:
Join HERE
My contact details are as follows:
Eileen Robinson
Family Liaison Officer
Email: e.robinson@percyhedley.org.uk
Telephone: 0191 2161811 ext 3260