Family Information and PTA updates. 1st April 2022
As we approach the last week before the Easter holidays I am looking out for activities for families. Please email me or share via our Facebook page if you have any suggestions.
I start this week's blog by sharing extensively information about the SEND Review and urge families to read and share your views with the government. I include 2 organisations who are already highlighting concerns. You have until the 1st July to send your views.
Information.
SEND REVIEW
The government has published a green paper on the future of the special educational needs and disabilities (SEND) and alternative provision (AP) system and is undertaking a public consultation on the green paper's proposals.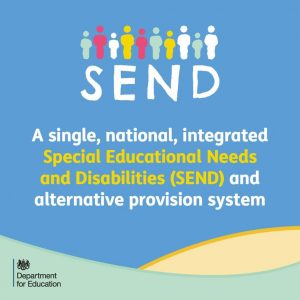 The link below is to the summary document; Right support, right place, right time document
https://assets.publishing.service.gov.uk/government/uploads/system/uploads/attachment_data/file/1064655/SEND_Review_Right_support_right_place_right_time_summary.pdf
The consultation commenced on 29 March 2022 and is open until 1st July 2022.
The link to the survey is here:
https://consult.education.gov.uk/send-review-division/send-review-2022/consultation/subpage.2022-02-02.7538639008/
Both Contact-for families of disabled children and IPSEA are encouraging as many as possible to get involved.
Contact link to SEND Review
This week the government revealed proposals for a major reform of the SEND support system in England across education, health and social care.
Set new national standards for education, health and care
Simplify and digitise EHCPs
Make 'local inclusion plans' legally required
Create a national framework for council banding and tariffs
Change the culture in mainstream education
We are taking a close look at the proposals and will share more information over the coming weeks to help parents answer the government's consultation.
In the meantime, read the
#SENDReview
green paper (or a summary of proposals) here
bit.ly/SENDReview-Contact
IPSEA link to SEND Review
There's a lot to absorb in the SEND Green Paper – and a lot to be concerned about. We're still carefully reading the proposals and looking at how these fit with the current legal framework, and will produce a detailed analysis soon. In the meantime, a few things jump out:
Reference to local decision-making and 'local discretion', requiring national standards to fix. Local authorities may think they have discretion, but existing law is clear – that's why local authorities lose so consistently at Tribunal. Applying the law should be priority, not creating new structures.
Assumption that increasing number of Tribunal appeals demonstrates parents' 'frustration' with SEND system. No: it demonstrates unlawful decision-making by local authorities.
Proposed amendment to process for naming school in an EHC plan. This appears to be led by what already exists in local area rather than what child's individual needs might be. By what method will local authorities produce tailored list of options – and how many options will there realistically be?
Making mediation mandatory and making it harder to appeal to Tribunal. Lots of problems with this. But if ministers want a less adversarial system, they need to find a way of making sure the law is followed in every area, for every child.
Thanks everyone so much for these comments – we are taking note of them all. IPSEA will be preparing a detailed response to the consultation on the proposals in the SEND green paper, and we also encourage you all to submit your own response so the Government knows what you think. The consultation runs until Fri 1 July, so there's plenty of time. Details of how to respond can be found at the link below, and we will also be putting information about it on our website shortly.
Activities;
Tim Lamb Centre: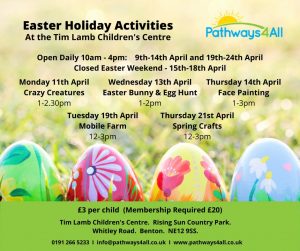 Link to their Easter holiday activities is here
Kate Stanforth Academy of Dance
I know this young lady personally and was so pleased that a therapist asked me to share information with parents. Indeed, it was a parent of one of our students who brought it to the therapists attention. Kate offers online dance lessons to ALL, and I mean ALL abilities. Initially on course to become a professional ballerina, she became unwell and has trained as a dance teacher and opened her own school. Apart from this she is an advocate and campaigner for many disability related issues.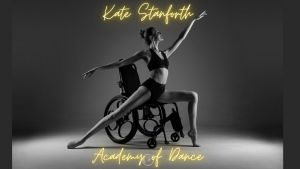 The link to her website is:
https://www.katestanforthacademyofdance.com/
The link to her Facebook group is:
https://www.facebook.com/katestanforthdance
The Hub Walkergate
On every Wednesday . DONT FORGET TO REGISTER.
A new safe, secure, friendly weekly drop-in hub for young people with special/additional needs aged 16-25
Every Wednesday at 4.30-6.30pm, Ray Gray Centre, Walkergate, NE6 4UH
This is FREE for participants thanks to National Lottery Funding
Find out more on our website, or see image below, enquiries to info@quadrantleisure.org.uk
Smile Through Sport
With the Easter half term holidays just around the corner… check out our Easter sports and activity sessions for children and young people with SEND, their siblings and parents too!
A range of different sports, games, activities and space for all ability levels. The minimum age is 5 years.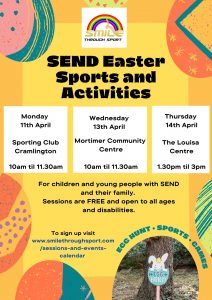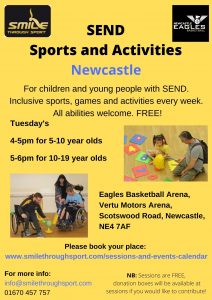 Northumberland SENDIASS Newsletter
Northumberland families should contact Julia on the address below to ask to be added to their mailing list. Although I am sent these, and very happy to share by email on request.  Lots of activity suggestions, support etc. You can contact Julia on: julia.mccormack@northumberland.gov.uk
Here is the link to their page on the Northumberland Local Offer:
Success for All
Success4All is an educational charity that runs Learning Hubs, Clubs and Summer Schools in less affluent areas of Newcastle and North Tyneside. We ensure that children and young have the very best chance at success no matter their circumstances.
See less
Our aim at Success4All is to engage, equip and empower children, young people and their families in deprived areas of Newcastle so that they can build a successful future for themselves and others. We do this by creating safe and fun learning environments, in areas of Newcastle that are marked by low academic achievement, where independent, collaborative or paired learning can take place.
Although the Easter Club is now full, I thought it worth sharing for those who are interested. This will give you time to register with them for future events.
Their website address is
here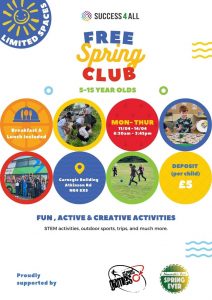 The Lawnmowere:Krocodile Club
A club for over 16's. See poster below:
At the Star and Shadow cinema on Warwick Street, Newcastle upon Tyne NE2 -1BB (Shieldfield/Heaton area).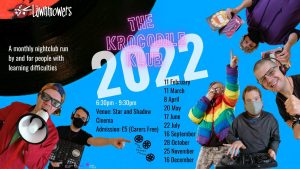 The Sensory Place: South Tyneside
The Sensory Place are hosting Easter fun at Williby Roc's CIC on Wednesday 20th April at 10am-12pm 
Please email Thesensoryplace19@outlook.com to book!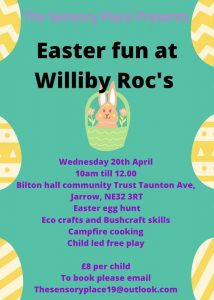 PTA
We held a sub committee meeting this week, with plans underway for our Summer Fayre. After Easter, we will be asking for:
donations of chocolate, bottles, toys, gifts and raffle prizes
volunteers to help make this even bigger and better; we need parents who can help set up, man a stall for an hour or 2, get other family members to help with stalls
any expertise within our family community for specific roles on the day. This could be anything from holding a food hygiene cert, marshalling experience and anything you feel will help.
Please get in touch, but mostly SAVE the date: Saturday 16th July to come along with your family and friends and meet other families.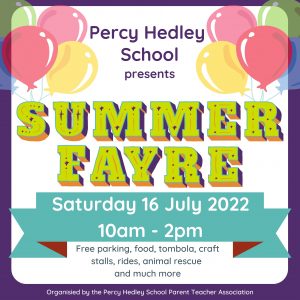 Mini Raffle
We will hold a small raffle in school next week with tickets at 50p each. We had 2 beautiful knitted bunnies donated and will add an Easter Egg to each to complete the Easter theme.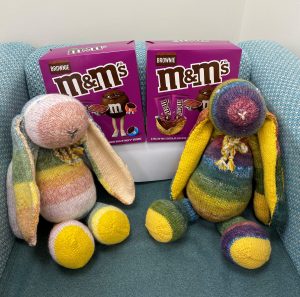 Evening PTA Meeting:
We're holding our first evening meeting on Tuesday 5th April 19.30-20.30.This will be held on Microsoft TEAMS and the link to join is here. At this stage we haven't considered face to face evening meetings, but this could be discussed if you feel it doable. Personally, I feel it could be a challenge for those who live a distance from school and may not have support/childcare in the evenings.
Supporting School.
The committee has agreed to fund resources for the Eggcited to MOVE event at school on Thursday 7th April. We also await a quote for additional resources for the outdoor learning space which will be considered.
PTA Facebook  page. 
Our membership is growing steadily, and is a place where we share school information. We also welcome parents/carers to share ideas, photos, suggestions for days out or anything else which would interest other families. If you have not joined yet the link is here:
Until next week, my contact details are
Eileen Robinson; Family Liaison Officer
Email: e.robinson@percyhedley.org.uk
Telephone: 0191 2161811 ext 3260.