A Day in the Life of…Maxine
Role: Technical Instructor/Rebound Therapy Tutor/Moving and Handling Instructor at Hedleys Able 2 Linskill
8:30-9:15am
I start my day by thanking my lucky stars that I am able to work alongside a great group of people and a dedicated staff team. I am very grateful for the opportunities that I have been given since starting my role, that have allowed me to grow and develop my skills and life experiences.
I write up the sessions that need additional support, ready for the morning handover meeting where we will discuss the activities, therapies and any other important information.
Myself or one of the physiotherapy team check Rebound Active; Rebound through the Rainbow and the Spa to make sure the rooms are safe and ready for people to use.
9:15am- 9:45am
After catching up with my physiotherapy team to discuss any information and plan the day, I head to Rebound through the Rainbow for a therapy date with a lady I have been supporting for 7 years, we both love to bounce.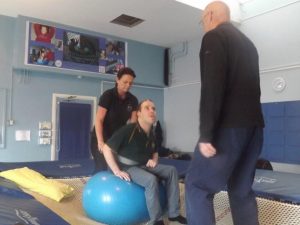 9:45-10:45am
I set up the room for The Sunrise group. The session includes passive stretches, aromas of citrus and a massage story, which guarantees a big dose of smiles all round.
10:45-11:15am
Write some notes, grab a drink and read emails. I check in with the team, help with any Moving and Handling issues, slings or wheelchair problems.
11:15am
Head to the Expressions Studio for a music session facilitated by our wonderful Speech and Language Therapy team. I chat with and assist people that need hoisting out of their chairs and need positioned into alignment.
12-12:30pm
Another music session follows in which I support a gentleman who likes to stand and access the tilt table so he can strum the guitar.
12:30-13:30pm
Grab some food and a drink and catch up with staff to share experiences and ideas. I do my notes, answer emails and check in with Hedleys Able 2 Forest Hall for any additional information I may need.
13:30-14:30pm
Time for a visit to the spa (yes, this is my job, great isn't it!?). I deliver stretches in the warm water with the jet bubbles adding that extra fun for the individual.
14:30-15:15pm
Clean and tidy the spa ready for the next person followed by more note taking. I help resolve any hoist breakdowns, sling, wheelchair and moving and handling issues.
15.15-4pm
Update moving and handling plans and write rebound assessments. Catch up with the team and share positive thoughts from the day. Reflect on our practice.
Check out our latest job vacancies here.