Abbie's Blog: When I was young
Regular blogger Abbie is affected by Cerebral Palsy, Pierre Robin Syndrome, a hearing impairment and speech and language difficulties. From a very young age she had to learn different ways to communicate because of this. In her latest blog, Abbie talks about how she adapted her communication methods and the vital support she received from the Foundation's Speech and Language therapists.
I have always had a hearing impairment. I think I was about 3 when I started wearing hearing aids.  I used to wear a hearing aid battery box – which was separate to my hearing aids (hearing aid technology has come a long way since then!)

When I was at school, maybe 6 or 7, I start driving my power wheelchair.  When I first started driving my powerchair, I felt scared, because it was new, but with practise I'm alright!

I don't remember exactly when I got my first VOCA (Voice Output Communication Aid), it was a long time ago.  I was maybe about 5 years old. At first, I just played with it, pressing buttons to see what they did, this is one way I learned to communicate with it.  I wasn't sure how I was doing at first but with experience realised that I could talk to people.  I met a Speech and Language Therapist on my first day of school and as well as my own hard work, they also helped me to learn how to use my VOCA.

I also use BSL (British Sign Language) to communicate.  I have always known a little bit of Sign Language but, when I went to Percy Hedley College I learnt more.  My friend is a very fast signer, I can understand her when she signs slowly but sometimes need to tell her to slow down!  I have also helped other people to learn some Sign Language, I know it helps us to work better together.  My mum and sister went to learn BSL at Newcastle College so we can now Sign together.

I know I have learned a lot from when I was young and have come a long way in my communication. People I work with now say I am a really good communicator and that I teach them how to communicate better!
Abbie's Blog: Talking with my nieces
Abbie is a young lady affected by Cerebral Palsy, Pierre Robin Syndrome, a hearing impairment and speech and language difficulties. In her latest blog, she talks about her young nieces and how they are learning to communicate with her:
I have two beautiful nieces, Ava is 6 years old and Rose is 4 years old.  I used to babysit every Monday and some Fridays.  I just played with them with their toys and games and on some Fridays they come over for sleep overs.

Rose loves the film 'Frozen', she keeps singing "Let it go"!   Ava loves 'How to Train your Dragon' and her favourite film is 'Toothless'.  I love my nieces but they are cheeky monkeys!

They ask me to put music on my phone of 'Little Mix'.  Ava started Beavers every Monday but Rose goes to my brother-in-law's Mum's house.

Ava stands in front of me all the time.  She knows I am deaf and she understands why it helps.  I use British Sign Language [BSL].  Ava can also Sign a little and Rose knows some Sign.   My sister Kelly, their Mum, tried to teach Ava the Sign for 'Happy Birthday' but she didn't want to learn it.  But Rose Signed it to me with her Mum!

My Mum is teaching Ava to Sign the alphabet in BSL.

Ava asks Rose to stand in front of me so I can see her face and lips.   Rose didn't understand why I need this, so Kelly explained.  Rose now understands what's going on with me.  She sits next to me for lunch and I can read her lips, but I don't understand if she talks fast.  She sits on my left so I don't catch her if my right arm moves by mistake.   Sometimes I ask her to stand where I can see her face and lips.  They know to wait and listen when I am speaking with my Voice Output Communication Aid [VOCA].
Laura's Blog
Our latest service user blog is by Laura, who uses a book to aid communication and has speech and language therapy at Hedleys Able 2. She explains how important both have been to her.
My name is Laura and I was born and raised in Durham. I am a member of Newcastle United Disabled Supporters Association (NUDSA). I love being part of NUDSA because I attend committee meetings to share ideas for fundraising and raising disability awareness.

I have visual impairment and cerebral palsy involving my whole body, and resulting in dysphagia and dysarthria. I am funded for speech and language therapy at Hedleys Able2, who regularly assess my eating and drinking. My support team are provided mealtime management plans and dysphagia training to ensure I can enjoy food and drink as safely as possible. Mealtimes have recently improved as my support staff now have a better understanding of my positioning and the speed at which I like to eat.

My funding also covers communication and a speech and language therapy assistant visits me at home every week so we can develop my low-tech commination book (known as auditory scanning book). We look at ways of making it user friendly for my communication partners, so I can communicate with as many people as possible. I also like the categories and words to be relevant; for example, having the words that I need to make sentences related to my life. My mum has played a big part in the success of my communication book. She is really supportive, an excellent communication partner and she shares all of the good news that I tell her about.

I communicate by answering yes or no non-verbally to categories that are read out aloud in order. These are also sub-categories, so I am familiar with where all of my words are and can construct sentences by choosing the words that I need.

I recently used my book in a session to communicate my wish to buy a bench in memory of my late uncle who was a massive Newcastle United fan. I used my places category to find 'Saltwell Park' to share that he grew up playing around the park and selected the action category  so I could say 'paint' and the colours 'black' and 'white' to request that the bench be painted in these colours. Without the book and speech and language therapy I would have been unable to develop my communication skills, which in return would have reduced the amount of control I had over my own life.

Having limited communication makes me feel isolated and frustrated, so being able to make choices and being socially included has reduced these emotions. Speech and language therapy has had such an impact on my life and the bench is just one example of when my book has had a positive outcome. The bench is almost finished now and I can't wait to surprise my aunty when it is ready."
Ashley's Blog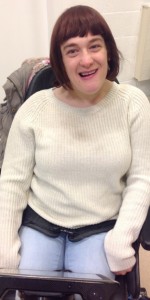 Ashley is affected by cerebral palsy (CP). To communicate she uses a Dynavox voice output communication aid.
The support Ashley has received from therapists at Hedleys Able 2 has helped her get the most out of her Dynavox and enabled her to communicate with people more easily. Ashley was able to conduct interviews for her 24-hour carers using this vital technology.
The range of activities on offer through Hedleys Able 2 means Ashley can enjoy doing the things she likes in a social environment, which is very important to her.
This is what she had to say about how she communicates, in her own words.
"My name is Ashley and I have CP and I use a Dynavox because I can't talk. I use a picture programme and words and letters when I can't find the word. I use my Dynavox with direct access. I press the screen with my right fist to say what I want to say. I use my Dynavox for talking to people. I feel happy when people talk to me.

At the beginning I had a bliss symbol book. Somebody used to hold it and I pointed to the symbols. When I was about 7 years old I used a Liberator (Voice Output Communication Aid). I used a switch with my hand and my elbow. I had a pathfinder before I got my Dynavox. I am now 30 years old.

I had a Speech Therapist at school, Portland College and at Hedleys Able 2 and it helps with my life because I would not be able to learn how to use my Dynavox.

For the last 11 years I have lived in my own flat with 24 hour care. I did my (staff) interviews with my Dynavox and it was great because the staff could see how I talk. I didn't want people who were quiet; I wanted someone to talk to me. I wanted someone jolly and outstanding. It is important. They might not be right for the job.

I use my Dynavox with the OT and case worker, and sometimes mum. I used it with my OT to explain about problem. Without the Dynavox my carer would tell them. But I can do it myself.

I attend Hedleys Able 2 Monday to Thursday. I do sports, art and ceramics. If I did not come I would be sitting at home and not going out.  I would be depressed.

People don't understand that people in wheelchairs can understand. Sometimes people talk to people in wheelchair like a baby. I have a mind."
Abbie's Story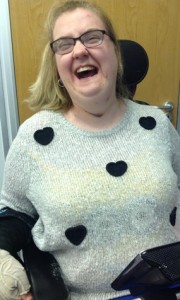 Abbie is a young lady affected by Cerebral Palsy, Pierre Robin Syndrome, a hearing impairment and speech and language difficulties.
To communicate, Abbie – like many of the children, young people and adults we support – uses a mixture of British Sign Language and a speech generating device called a Dynavox. This is absolutely crucial to Abbie as it enables her to be independent and to be heard.
To raise awareness of Augmentative and Alternative Communication (AAC) Month, Abbie wanted to share her story.
This is what she had to say about how she communicates, in her own words.
Hello, my name is Abbie. I am 25 year old. I live in Newcastle. I have 3 pets. I have a dog called Poppie and 2 guinea pigs called Rosie and Roxy.

To communicate I use my Dynavox Maestro and I use BSL. Not everyone can understand me when I use BSL. I use my left hand with my Dynavox to touch the screen. I have a problem with my right side. I have over 100 symbols or words on each page. When I can't find the word I need I type it out.

When I was young I had a different Dynavox and a communication book. I was 10 when I started communication with a Dynavox. I am 25 year old now. If I have problems with Dynavox I use my communication book. I ask staff for the book by pointing and point to the symbol.

When I use a phone I communicate with my Dynavox. I put phrases or words on my Dynavox.

I go to Hedleys Able 2 four days a week. I use Dynavox all the time I use communication at home and at Able 2. When I go out I take my Dynavox.

I can use my Dynavox on video for Facebook. I can also listen to music from my Dynavox. I already have my own blog on Facebook about my Dynavox. I make videos about my day and activities I have taken part in and post them on Facebook for my friends to watch and listen to. I hope people learn and enjoy my posts.

I have messages in my Dynavox which help to say how to talk to me including "I speak using a computer so please give me time to type", "please can you be quieter so I can concentrate" and "please stand in front of me so I can lip-read".  When using my Dynavox give me time to type. I can't do fast because I need time to think. I will be frustrated if people keep asking questions before I have finished. If a room is loud I ask please talk a little louder and please say that again.

Speech therapists help me learn more about Dynavox. My Dynavox help me talk to people and be heard. It give me independence, I can ask questions and answer people's questions. It is important to me so I can explain anything that's going on very clearly. I can talk to staff and my friends and family. In fact anyone at all.

I am happy using my Dynavox.