Visiting residents at our care homes
A couple of weeks ago we reviewed our visiting policy for residential services in line with some new government guidance that was published.
We know that the restrictions on visits are really difficult for our residents and their friends and relatives who are dearly missing each other and we have received a lot of enquiries from relatives about the new policy over the last couple of weeks.
We committed to reviewing our visiting policy regularly and following a review this week are please to say that we can change ease our restrictions on the number of constant visitors per resident from 1 person to 2 people from the same household (no children under 16).   Visits must continue to adhere to social distancing guidelines and in a designated visiting area in an outside space.   In the next couple of weeks we're going to be doing a more detailed review as risk assessment for each of our residential homes and will agree a policy for each home.  We'll keep you updated with changes as soon we have the information ready.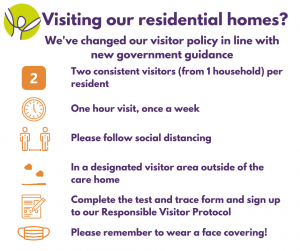 Residents visiting relatives at home
The government has not yet published guidance that confirms we can start to support visits away from the care home and how to safely manage these visits.  We're checking daily for the guidance and as soon as it is published we will review and share an update on our plans for managing visits away from the home within the guidance.
We know that it can be confusing with constantly changing information, and frustrating waiting for guidance to be published so thank you bearing with us as we try and find the best way to support our residents to have increased social interaction with their loved ones while continuing to keep them safe and prevent the spread of COVID-19.