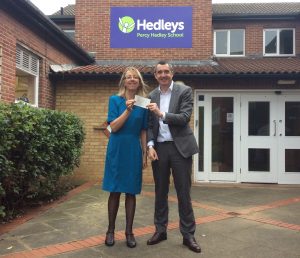 Huge thanks to leading project managers and Cost Consultants Identity Consult, who have presented us with a cheque for £4,000 from their 10th Anniversary Ball.
The event took place at the National Glass Centre, a fitting venue as Identity Consult oversaw the refurbishment of the building which is owned by one of its key clients, the University of Sunderland.
The event raised 8,000 which was shared between two charities, The Percy Hedley Foundation and Shildon AFC Development Centre, both of whom have close links with the company.
Identity Consult has worked closely with us for a number of years and also delivered our £4million Bradbury View residential development and hydrotherapy pool.
The Sunderland-based development consultants was founded in April 2006 and has grown to a team of 25 people between its North East Head office and its Preston base, which opened in 2013.
David Dent, Managing Director of Identity Consult, presented a cheque to Chief Executive Carole Harder, and said: "The ball was a fantastic opportunity both to celebrate the success of a North East based company but also an opportunity to raise much needed funds for two fantastic charities close to our heart.
"We play an important role in the physical regeneration of areas through the projects we deliver but we also try to support the communities in which we work and we are delighted with the funds raised by this event."
Maria Hallett, Community Fundraising and Events Manager at The Percy Hedley Foundation, said: "We are extremely proud of our association with Identity Consult and are very grateful that The Percy Hedley Foundation was chosen as one of the charities to benefit from their 10th anniversary dinner.
"The evening raised a fantastic amount that will support our Building Brighter Futures Appeal to improve and expand our services for disabled children, young people and adults."