Thanks to the support of employers across the North East, Hedleys Employability has placed many young people and adults within companies to gain valuable work experience in the last year.
In a series of features, we go behind the scenes at some of the placements organised by the Hedleys Employability team to see how both employer and employee benefit from the experience.
Next up is Toby Redford, who attends Hedleys College in Forest Hall. Toby attends a supported internship at the Virtual College in Blyth.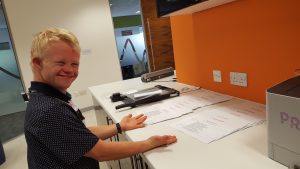 It's approaching 10am on a cold and wet November morning in Blyth and Hedleys College student Toby has just arrived for work.
Since September Toby, 22, has attended a two-day supported internship at the Northumberland Virtual School for Looked After Children in Blyth, which provides education and support to over 300 children across Northumberland.
Every Tuesday and Thursday Toby spends the day at the School's office carrying out a number of tasks, but not before he's gone round the office to say hello and ask how everyone is.
Toby's tasks include data input, organising brochures and workbooks, participating on the Pupil Placement Panel, organising paperwork and attending meetings. Team Manager Toni McGuire explains how much Toby has progressed in only a few months.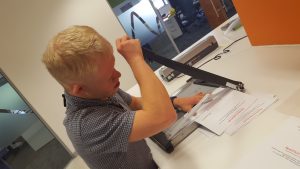 "Toby's independence has grown massively since he started with us," Toni said.
"At the beginning he would stay close to Kerry (who supports Toby at his internship) but now he likes to arrive on his own and relies on Kerry a lot less .
"The quality of Toby's work is very impressive and he's become very popular with everyone in the office.
"When Toby is here he lifts the mood, he really has had a positive effect on the whole office."
Toby has been a student at Hedleys College for three years and did an initial work placement at the Virtual School earlier this year. Staff were so impressed that they offered him a two-day supported internship.
Toni said: "It's been a positive experience all round for us. We have had to think more about how we facilitate staff and how we communicate and give instructions.
"It's really important that more businesses offer internships to disabled people. Toby's internship runs for one year and we do hope to offer him a permanent part-time post at the end of it."
Hedleys Employability recently hosted a high-profile conference aimed at challenging the current disability employment gap.
The Government has set a bold target to halve the disability employment gap between disabled and non-disabled workers by 2020, which currently stands at approximately 33.1 per cent.
Christine Shanks-Brownlee, Project Manager at Hedleys Employability believes it is vital more employers offer internships like Northumberland Virtual School. She said: "Hedleys Employability compliments the Government's Disability Confident Campaign, which is committed to halving the disability employment gap.
"Employers have a vital role to play in this. The number of disabled people entering the labour market can only be increased if employers are willing to employ them."