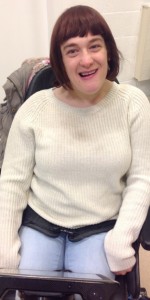 Ashley is affected by cerebral palsy (CP). To communicate she uses a Dynavox voice output communication aid.
The support Ashley has received from therapists at Hedleys Able 2 has helped her get the most out of her Dynavox and enabled her to communicate with people more easily. Ashley was able to conduct interviews for her 24-hour carers using this vital technology.
The range of activities on offer through Hedleys Able 2 means Ashley can enjoy doing the things she likes in a social environment, which is very important to her.
This is what she had to say about how she communicates, in her own words.
"My name is Ashley and I have CP and I use a Dynavox because I can't talk. I use a picture programme and words and letters when I can't find the word. I use my Dynavox with direct access. I press the screen with my right fist to say what I want to say. I use my Dynavox for talking to people. I feel happy when people talk to me.

At the beginning I had a bliss symbol book. Somebody used to hold it and I pointed to the symbols. When I was about 7 years old I used a Liberator (Voice Output Communication Aid). I used a switch with my hand and my elbow. I had a pathfinder before I got my Dynavox. I am now 30 years old.

I had a Speech Therapist at school, Portland College and at Hedleys Able 2 and it helps with my life because I would not be able to learn how to use my Dynavox.

For the last 11 years I have lived in my own flat with 24 hour care. I did my (staff) interviews with my Dynavox and it was great because the staff could see how I talk. I didn't want people who were quiet; I wanted someone to talk to me. I wanted someone jolly and outstanding. It is important. They might not be right for the job.

I use my Dynavox with the OT and case worker, and sometimes mum. I used it with my OT to explain about problem. Without the Dynavox my carer would tell them. But I can do it myself.

I attend Hedleys Able 2 Monday to Thursday. I do sports, art and ceramics. If I did not come I would be sitting at home and not going out.  I would be depressed.

People don't understand that people in wheelchairs can understand. Sometimes people talk to people in wheelchair like a baby. I have a mind."