Hedleys Horizons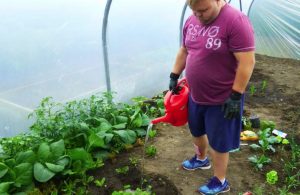 Gardening in our outdoor area of greenhouses and raised beds provides activities which can promote health and wellbeing, an appreciation of the outdoors and the opportunity to nurture plants from seedlings to fully grown. Our allotment, local to the site, can also be used to grow our own vegetables and herbs which can be added to your cooking sessions, seeing the process from soil to plate.
As a social enterprise – annual hanging baskets, bedding plants and Christmas crafts, opens up the site for customers, providing a service to the local community and allowing interaction with customers. Activities include hanging baskets, summer bedding plants, sowing seeds, fresh wreath making, Christmas Hyacinths, para cord weaving including bracelets, and woodwork.
Service users also get involved in wildlife projects such as bird watching, making bird feeders and insect homes, while we also offer willow weaving programmes that start with wreaths, plant support and small Christmas projects and move on to lanterns, large structures and animals.
Aims:
To enjoy a fulfilling activity which promotes positive mental and physical health and wellbeing.
To work as part of a team.
To understand early skills of work.
Promote an understanding of the natural world.