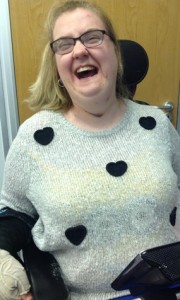 Abbie's Story: Talking with my nieces
Abbie is a young lady affected by Cerebral Palsy, Pierre Robin Syndrome, a hearing impairment and speech and language difficulties. In her latest blog, she talks about communicating with her young nieces.
I have two beautiful nieces, Ava is 6 years old and Rose is 4 years old.  I used to babysit every Monday and some Fridays.  I just played with them with their toys and games and on some Fridays they come over for sleep overs.

Rose loves the film 'Frozen', she keeps singing "Let it go"!   Ava loves 'How to Train your Dragon' and her favourite film is 'Toothless'.  I love my nieces but they are cheeky monkeys!

They ask me to put music on my phone of 'Little Mix'.  Ava started Beavers every Monday but Rose goes to my brother-in-law's Mum's house.

Ava stands in front of me all the time.  She knows I am deaf and she understands why it helps.  I use British Sign Language [BSL].  Ava can also Sign a little and Rose knows some Sign.   My sister Kelly, their Mum, tried to teach Ava the Sign for 'Happy Birthday' but she didn't want to learn it.  But Rose Signed it to me with her Mum!

My Mum is teaching Ava to Sign the alphabet in BSL.

Ava asks Rose to stand in front of me so I can see her face and lips.   Rose didn't understand why I need this, so Kelly explained.  Rose now understands what's going on with me.  She sits next to me for lunch and I can read her lips, but I don't understand if she talks fast.  She sits on my left so I don't catch her if my right arm moves by mistake.   Sometimes I ask her to stand where I can see her face and lips.  They know to wait and listen when I am speaking with my Voice Output Communication Aid [VOCA].